CNN, which aired Bourdains show Parts Unknown, confirmed his death and said it was suicide
The girlfriend of TV chef Anthony Bourdain has paid tribute to his brilliant, fearless spirit as friends and family reacted with shock to his death at the age of 61.
CNN, which hosted Bourdains globetrotting culinary travel guide Parts Unknown, confirmed Bourdains death on Friday and said it was suicide.
The CNN chief executive, Jeff Zucker, sent a note to staff saying the circumstances of the death are still unclear but that we do know that Tony took his own life.
Tony was an exceptional talent. A storyteller. A gifted writer. A world traveler. An adventurer. He brought something to CNN that no one else had ever brought before, Zucker said in the letter. This is a very, very sad day.
Bourdains girlfriend, the actor Asia Argento, said she was beyond devastated.
In a statement posted on Instagram, she wrote: Anthony gave all of himself in everything that he did. His brilliant, fearless spirit touched and inspired so many, and his generosity knew no bounds. He was my love, my rock, my protector. I am beyond devastated. My thoughts are with his family. I would ask that you respect their privacy and mine.
Bourdain was understood to have been in France working on an upcoming episode of his award-winning CNN series. His friend Eric Ripert, the French chef, found Bourdain unresponsive in his hotel room.
Barack Obama, who shared cheap food and lively banter with Bourdain on camera in Vietnam, tweeted a warm and poignant personal tribute.
Low plastic stool, cheap but delicious noodles, cold Hanoi beer. This is how Ill remember Tony. He taught us about food but more importantly, about its ability to bring us together. To make us a little less afraid of the unknown. Well miss him.
With evidence of Bourdains wide appeal, Donald Trump on Friday also issued a statement saying he had enjoyed the show, noting his shock at the news and sending condolences.
Bourdain pioneered a new generation of culinary storytellers with his groundbreaking 1999 book about the chaos and competitiveness of running a leading professional kitchen, Kitchen Confidential: Adventures in the Culinary Underbelly.
He also wrote Medium Raw: A Bloody Valentine to the World of Food and the People Who Cook.
The British celebrity chef Nigella Lawson tweeted: Heartbroken to hear about Tony Bourdains death. Unbearable for his family and girlfriend. Am going off Twitter for a while.
In his television series he hung with Obama in Hanoi and Iggy Pop in Miami.
Im proud of the fact that Ive had as dining companions over the years everybody from Hezbollah supporters, communist functionaries, anti-Putin activists, cowboys, stoners, Christian militia leaders, feminists, Palestinians and Israeli settlers, to Ted Nugent, he once explained.
You like food and are reasonably nice at the table? You show me hospitality when I travel? I will sit down with you and break bread.
Iggy Pop tweeted that he was in shock at the news of Bourdains sudden death. I loved the guy, and he was a light of kindness and good vibes in my life, he wrote.
The chef Gordon Ramsay said on Twitter that he was stunned and saddened by Bourdains death, adding: He brought the world into our homes. He included a counseling helpline number in the UK.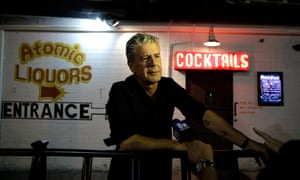 Read more: http://www.theguardian.com/us