Today's Agenda
Just Go Private Already, Tesla
Tesla Inc. founder and CEO Elon Musk continued his war on conventional corporate governance by announcing via Twitter that he is thinking of taking his $62 billion company private. This is … not how this sort of thing is typically done! But Musk isn't complaining, as Tesla's stock jumped 10 percent on that news. That will show all the shorts and haters, including analysts and journalists who annoyingly question Musk and his fight-picking, cash-burning, tent-pitching ways.
In fact, Liam Denning suggests going private is the best thing that could happen to Tesla and everyone involved: "A couple of years ago, I wrote it would have been better if Tesla could have been an Uber-like unicorn rather than a listed company. Besides no longer having to worry about pesky stuff like the best way of disclosing material events (for example), the company could dispense with its panoply of short-term targets on things like Model 3 production, cash flow and profits." Click here to read the whole thing.
What's at Stake in the Midterms
It's another election day in America, the four millionth since 2016, because time is a flat circle and you will always be in that voting booth, again and again and again, forever.
Anyway, there's a closely watched Ohio special election and some primaries today, but the big event is still this November's midterm election. Democrats are favored to take control of the House of Representatives, but there's a chance Republicans could keep Congress – and we haven't spent much time talking about what they might do with their new lease on life.
The juiciest target available to them might be the same bête noire they have repeatedly attacked since Trump took office: Obamacare. Ever since the GOP's failure to kill the Affordable Care Act, the Trump administration has been actively undermining it, pushing low-quality competing health plans and curbing enrollment, write Bloomberg's editors. It will be hard for the GOP to resist taking another stab directly at the law if it wins in November.
The best possible outcome for the ACA in that scenario would be that Republicans still can't agree on the best way to murder it, which is Jonathan Bernstein's bet. Whatever result you favor, it's a reason to get back in that voting booth.
The AT&T Consumer Is Forgotten Again
Trump's Justice Department is still fighting AT&T Inc.'s takeover of Time Warner, despite the fact that the merger has already happened. Tara Lachapelle writes the government botched its first effort to stop the merger, and it's blowing the appealtoo: "It may take time, but one way or another consumers will feel the ramifications of this megadeal and the others it sets in motion. The government let the consumer down, and its opening [appellate] brief doesn't instill much faith that it can recover from the June defeat." Click here to read the whole thing.
Starbucks Takes Sides in the Trade War
Trump claims he's winning his trade war with China, and the U.S. stock market seems to be encouraging that belief. Maybe so, but that's not stopping Starbucks Corp. from betting its money on China, writes Dan Moss. The caffeine empire just started up a partnership with Alibaba, and it's "testimony to the strength of the domestic Chinese market that Starbucks expects it to surpass America."
Bonus trade-war reading:
Tenure for All
The stereotype of millennials is that they are profligate job-hoppers, but Noah Smith points out they actually favor stability more than Gen Xers – apparently coming of age during the worst recession in generations does that to you. Noah suggests this is a perfect opportunity to start offering regular corporate employees the same kind of job security college professors and professional athletes get, in the form of long-term contracts: "In exchange for a long-term contract, workers would presumably accept lower starting salaries – like tenure-track professors, except perhaps even lower to account for companies' greater volatility." Click here to read the whole thing.
Further college reading:
For-profit colleges aren't alone in making unverified claims about their benefits; elite colleges do the same thing. – Miles Kimball
Chart Attack
We love to talk about the FAANGs as a bloc, but this is just a lazy way to think about tech and the broader market, writes Nir Kaissar: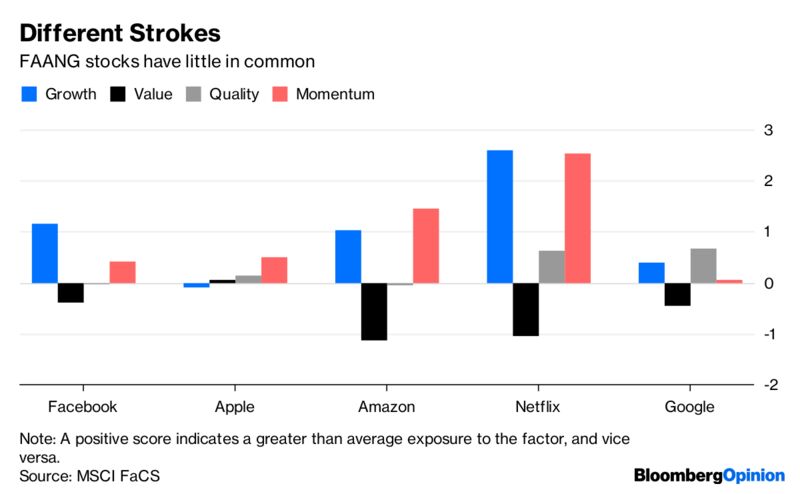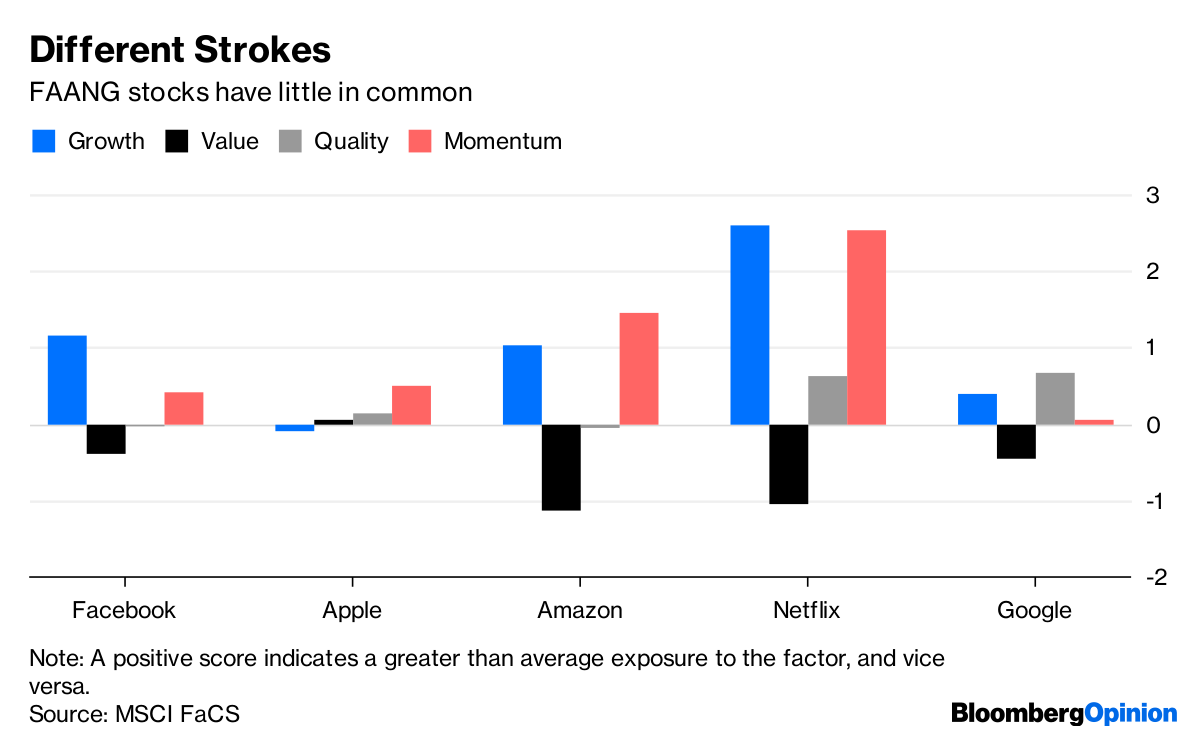 Carl Icahn has a point about Cigna Inc.'s plan to buy Express Scripts Holding Co., writes Max Nisen.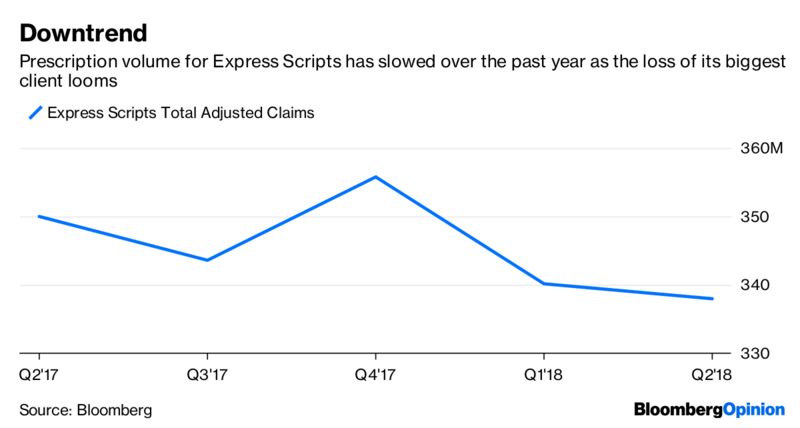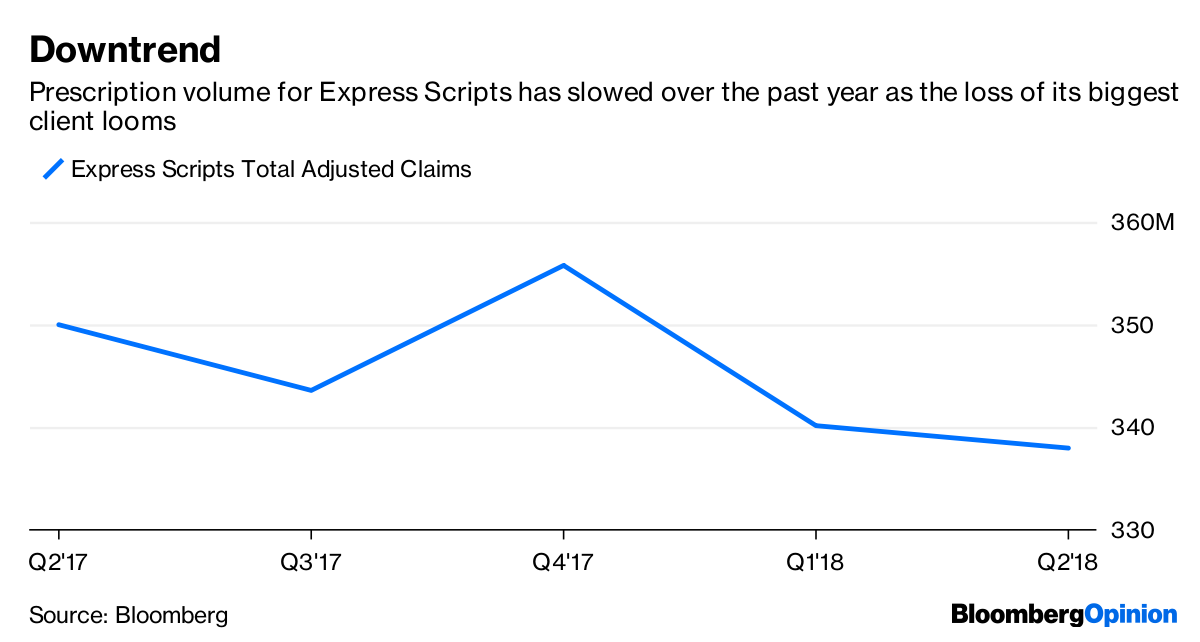 Speed Reading
A $30 billion IPO for SoftBank Group Corp.'s Japanese wireless business is a stretch. – Nisha Gopalan and Shuli Ren
The bond-market bears are ignoring plain evidence. – David Ader
The UK is trying to keep bankers from fleeing to Paris, but it's in no position to bash the French these days. – Lionel Laurent
Italy's populists should heed the warning of Turkey's lira blowup. – Mark Gilbert
Nobody comes out great in Canada and Saudi Arabia's Twitter spat. – Bobby Ghosh
Emerging markets can rally as the Fed lifts rates, as long as their central banks keep pace. – Shuli Ren
New Trump administration sanctions will hurt Iran's people; it needs targeted actions to show it's on their side. – Eli Lake
ICYMI
Rick Gates testified he did so many crimes for his former boss Paul Manafort. President Donald Trump is going after legal immigrants next. Commerce Secretary Wilbur Ross "could rank among the biggest grifters in American history," Forbes suggests.
Kickers
Here's what happens when a "58-year-old with questionable coordination and a Honda Civic" jumps into the Darwinian world of Bird (electric scooter) hunting. – Virginia Postrel
HGTV bought the former "Brady Bunch" house, outbidding Lance Bass.
Burger King will play Toto's "Africa" all day at one of its locations.
Plants rule the Earth.
Inside the big business of dog cloning.
Hot out there: 28 photos of people and animals trying to stay cool.
Note:Please send rap albums, suggestions and kicker ideas to Mark Gongloff at [email protected]
***
New subscribers can sign up here.
Like Bloomberg Opinion Today? Subscribe to Bloomberg All Access and get much, much more. You'll receive our unmatched global news coverage and two in-depth daily newsletters, The Bloomberg Open and The Bloomberg Close.
To contact the editor responsible for this story:
Timothy L. O'Brien at [email protected]
Read more: http://www.bloomberg.com/