Restored paintings go on view in Amsterdam, infamous art heist story to a close
Seventeen years after being snatched from the Van Gogh Museum in Amsterdam, two of the artists works have been put back on public display, bringing the story of one of most infamous postwar art heists to a close.
View of the Sea at Scheveningen and Congregation Leaving the Reformed Church in Nuenen by Vincent van Gogh were stolen in the dark of a December night in 2002.
Octave Durham, now 46, and his accomplice, Henk Bieslijn, climbed on to the roof of the museum using a stolen ladder before smashing a window with a sledgehammer and lifting from a wall the smallest and nearest Van Gogh canvasses they could find. A security guard spotted the men, but she was not allowed to use force to stop them.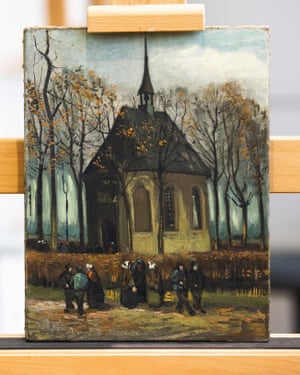 Read more: http://www.theguardian.com/us