At least 300 people killed and hundreds seriously injured in attack blamed on militant group al-Shabaab
The death toll in the bombing that hit the centre of Mogadishu on Saturday continues to rise, with more than 300 people now believed to have been killed and hundreds more seriously injured.
The scale of the loss makes the attack, which involved a truck packed with several hundred kilograms of military-grade and homemade explosives, one of the most lethal terrorist acts anywhere in the world for many years.
On Monday morning, Somalias information minister announced that 276 people had died in the attack with at least 300 people injured. Within hours, however, Abdikadir Abdirahman, the director of Amin ambulances, said his service had confirmed that 300 people died in the blast.
The death toll will still be higher because some people are still missing, Abdirahman told Reuters.
More victims continue to be dug from the rubble spread over an area hundreds of metres wide in the centre of the city.
Rescue workers said a definitive death toll may never be established because the intense heat generated by the blast meant the remains of many people would not be found.
Others may have been buried quickly by relatives.
The devastating bombing, which provoked international condemnation, will focus attention on the decade-long battle against al-Shabaab, an Islamist group, in Somalia.
Michael Keating, the UN special envoy to Somalia, called the attack revolting.
The US mission to Somalia said: Such cowardly attacks reinvigorate the commitment of the United States to assist our Somali and African Union partners to combat the scourge of terrorism.
Al-Shabab earlier this year vowed to increase its attacks after both the Trump administration and Somalias recently elected president announced new military efforts against the group.
Officials said more than 110 victims of the bombing had already been buried. One hundred and sixty of the bodies could not be recognised and so they were buried by the government [on Sunday] , Aden Nur, a doctor at the citys Madina hospital, said. The others were buried by their relatives. Over a hundred injured were also brought here.
Casualties included senior civil servants, five paramedic volunteers and a journalist, but most were ordinary people on one of the busiest thoroughfares of Mogadishu, which has been hit by multiple bombings in recent years.
The bomb, which is thought to have targeted Somalias foreign ministry, was concealed in a truck and exploded near a hotel, demolishing the building and several others.
Sources close to the Somali government said the truck had been stopped at a checkpoint and was about to be searched when the driver suddenly accelerated. It crashed through a barrier, then exploded. This ignited a fuel tanker parked nearby, creating a massive fireball.
Witnesses described bewildered families wandering among the rubble and wrecked vehicles, looking for missing relatives. Bodies were carried from the scene on makeshift stretchers made of blankets, as people tried to dig through the debris with their hands.
Theres nothing I can say. We have lost everything, said Zainab Sharif, a mother of four who lost her husband in the attack. She sat outside a hospital where he was pronounced dead after doctors tried for hours to save him from an arterial injury.
Muna Haj, 36, said: Today, I lost my son who was dear to me. The oppressors have taken his life away from him. I hate them. May Allah give patience to all families who lost their loved ones in that tragic blast And I pray that one day Allah will bring his justice to the perpetrators of that evil act.
The president, Mohamed Abdullahi Mohamed, declared three days of national mourning and joined thousands of people who responded to a plea by hospitals to donate blood for the wounded. I am appealing to all Somali people to come forward and donate, he said.
Mohamed, who took power in February, had vowed to rid the country of al-Shabaab. He has faced huge challenges, with the insurgency proving resilient to the ramped-up offensive aided by the US, and a famine.
Dr Mohamed Yusuf, the director of Mogadishus Medina hospital, said his staff had been overwhelmed by both dead and wounded. This is really horrendous, unlike any other time in the past.
A Turkish air ambulance landed at Mogadishu airport on Monday morning to airlift 50 seriously injured people.
Al-Shabaab, which has been affiliated to al-Qaida since 2011, has not yet claimed responsibility for the attack.
However the organisation has a history of launching bomb attacks against civilian targets in Mogadishu, and is known to avoid claiming responsibility for operations which it believes may significantly damage its public image among ordinary Somalis.
The bombing was reported on media outlets linked to al-Shabaab.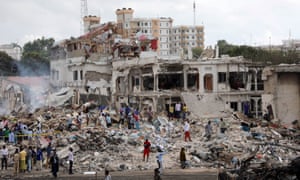 Read more: http://www.theguardian.com/us