The allure of bitcoin was too much for CME Group Inc.
The world's largest exchange owner reversed course today and said it plans to introduce bitcoin futures by the end of the year, only a month after dismissing such a plan. The largest cryptocurrency, which has surged more than sixfold this year, climbed to a record high after the announcement.
CME's neighbor across the street in Chicago seems to have had a lot to do with the decision. Cboe Global Markets Inc. said earlier this year that it was going to begin a bitcoin futures contract by year-end or early 2018, and awaits approval from the Commodity Futures Trading Commission. The CME contract will settle in cash and use a daily price from the CME CF Bitcoin Reference Rate, which is supported by digital exchanges Bitstamp, GDAX, itBit and Kraken. Missing from that list is Gemini, one of the other large global exchanges, which struck a deal with Cboe.
A functioning derivatives market could help professional traders and investors access the incredible volatility inherent in bitcoin without having to trade on unfamiliar venues that may risk anti-money laundering and know-your-customer rules. It will also allow traders to hedge their cash positions in the digital currency, which to date has been difficult to do.
"As the world's largest regulated FX marketplace, CME Group is the natural home for this new vehicle that will provide investors with transparency, price discovery and risk transfer capabilities," Terrence Duffy, CME's chief executive officer, said in a statement today.
The creation of bitcoin futures is a key step in opening the asset to institutional investors, who currently have few opportunities, said Spencer Bogart, head of research at Blockchain Capital, a San Francisco-based venture capital firm. Bitcoin Investment Trust, currently one of the only avenues for investors seeking bitcoin-backed securities, is trading at a premium of more than 30 percent above net asset value. The trust, known as GBTC, is a "physical" fund, meaning it holds bitcoin itself.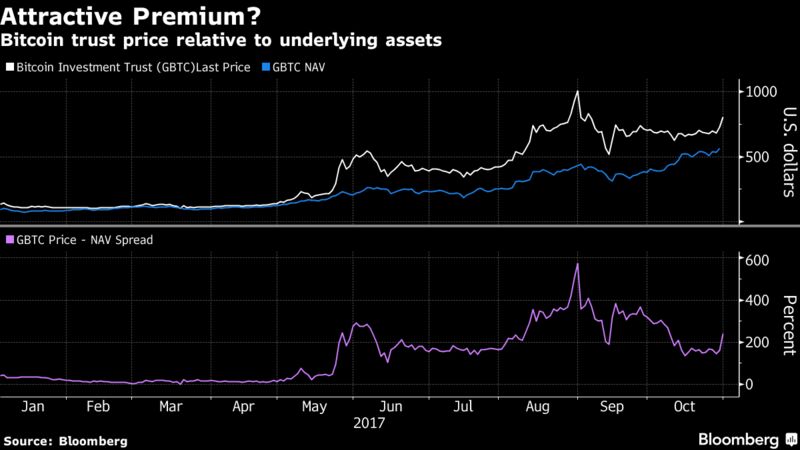 "The amount of institutional money in bitcoin now is very little because there are very few vehicles," Bogart said. "If there are bitcoin futures, there can be futures-based" exchange-traded funds.
In the race for bitcoin derivatives, both CME and Cboe have lost to a startup. LedgerX won CFTC approval to offer swaps and options on bitcoin and began trading earlier this month. Volumes have been light so far. Yesterday, 103 bitcoin swaps traded on LedgerX, while nine options contracts changed hands, according to the exchange. The LedgerX options trades are physically-delivered, giving investors who hold a contract to maturity the ability to own bitcoin outright.
Ari Paul, a co-founder of Blocktower Capital, said LedgerX is starting out slowly on purpose. "DRW is a market maker there," Paul said. "There's pretty low volume. A million dollars a day. I do expect them to have a lot of volume very soon. They are intelligently ramping up."
Many investors who want to can't maintain ownership of bitcoin now, what's known as custody, "either for regulatory reasons or because it's scary and hard," Paul said. But in a regulated market like futures that doesn't become an issue. "The ability to easily short allows for market neutral strategies and makes high-frequency trading much easier. That draws a lot of attention from hedge funds and the traditional finance world."
Gadfly: Bitcoin's push into the mainstream
CME and Cboe face challenges to win over investors to their bitcoin futures. If the underlying pricing is unsound that could steer people away, said Mark Williams, a finance lecturer at Boston University's Questrom School of Business.
"The concern is that CME will attempt to treat bitcoin like a corn or wheat future when this commodity is in a highly risky class of its own," Williams said. "One of the major spots to buy and sell bitcoin are through unregulated bucket shop exchanges located outside of the reach of U.S. regulators." He noted that since 2009, almost half of these types of exchanges included Mt. Gox, once the world's largest bitcoin market, have gone bust. "CME has no other commodity future that looks like or behaves like bitcoin. To me this means trouble."
Jon West, head trader at digital asset brokerage Omega One, said the amount of daily margin CME and Cboe require will be a key ingredient. If it's too high "then it's not very useful for hedging because you need to have so much money in your account," he said. CME should take it slow as it designs its contract, he said. "It's a very complex asset with a lot going on."
The creation of bitcoin futures should make it easier to create an exchange-traded fund based on the digital asset. Yet so far that's been a much harder task. The U.S. Securities and Exchange Commission in March rejected a bitcoin ETF proposed by Tyler and Cameron Winklevoss — the co-creators of the Gemini exchange — saying necessary surveillance-sharing agreements were too difficult given that "significant markets for bitcoin are unregulated," according to the agency.
CME is a giant in trading with products including futures on the S&P 500, oil and gold, and customer connections all around the world. The timing of the decision is a bit of a surprise. Just a month ago, CME President Bryan Durkin said on Bloomberg Television that "I really don't see us going forward with a futures contract in the very near future."
Under Duffy's leadership it has pulled back from business interests that didn't align with its historic role as a futures powerhouse, such as shutting down its European operations and exiting credit-default swap clearing. Its resistance to bitcoin futures was seen as aligned with Duffy's vision of keeping the company's focus on what it has always done well.
"I'm a little concerned about the fact that both of those futures contracts are cash settled," said Garrett See, chief executive officer of DV Chain, a sister company of trading firm DV Trading, which trades cryptocurrencies. The Cboe contract will be settled using auctions on the Gemini exchange. See said there has not been a lot of volume in those auctions, so he raised the question of what happens if an auction fails, or there's not enough volume to keep it from being manipulated.
"I'm really excited to see derivatives come into the space," See said. "I see it as a great step, but in an ideal world I'd really like to see physical delivery" in futures.
Another benefit is the increased regulation that will come with bitcoin futures, Omega One's West said. "Futures trading should deter some black market business and push it into more regulated places," he said.
Read more: http://www.bloomberg.com/