Jana Novotna, the Czech tennis player who won the 1998 womens singles at Wimbledon, has died at the age of 49
Jana Novotna, who has died of cancer at 49, will forever be remembered for a moment of tears in defeat on Centre Court at Wimbledon, as much as the 100 titles she won in a long and lauded tennis career.
The Czech player, who was inducted into the sports hall of fame in 2005, struggled to contain her emotions after losing to Steffi Graf in the 1993 final at the All England Club, and the image of the Duchess of Kent consoling her during the trophy presentation is among the most enduring of the championships.
She was in sight of victory, leading 4-1 in the third set, when the German took five games in a row to win 7-6 (6), 1-6, 6-4. When Novotna began crying after being presented with the runner-ups plate, the Duchess of Kent put an arm around her and whispered: Dont worry, youll win this one day.
She lost to Martina Hingis in the final four years later but won the title in 1998, beating the French player Nathalie Tauziat (whose cousin, Didier Deschamps, a week later captained France to the World Cup title in Paris). At 29 years and nine months, Novotna was the oldest first-time winner of a slam singles title in the Open era.
In a 2015 interview with the BBC, Novotna said of the 1993 final: The next day, even though I was sad and disappointed, I opened the newspaper and my picture with the Duchess of Kent was on the front pages. For a moment it felt like I was the winner and that was a great feeling. I still have the newspapers. Theyre beautiful pictures and I think it showed the human side of professional tennis, which most of the people came to remember instead of me losing.
It wouldnt sound great to say the 1993 final was the one I was most proud of because I lost the match when I was ahead. But it meant so much for me and maybe it made me a better player, a better person and maybe that match helped me to accomplish a lot more in my career.
Novotna, like many players of her era, was most comfortable playing at the net, a serve-volleyer of the excellent judgment and touch. Her forte was doubles, in which she won 12 grand slam titles including the full set of Wimbledon, Australian, French and the US as well as four in mixed doubles, but she was widely respected in singles, also.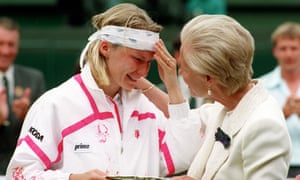 Read more: https://www.theguardian.com/us