The defeat of Republican Roy Moore in Alabama's U.S. Senate race by Democrat Doug Jones was a stunning rebuke to the GOP's anti-establishment wing led by Steve Bannon and a major political embarrassment for President Donald Trump.
Moore's candidacy was the opening gambit in Bannon's war to oust Senate Majority Leader Mitch McConnell and the rest of the GOP's congressional leadership. While Trump backed Moore's primary challenger at McConnell's behest, he jumped in with a full-throated endorsement of Moore a week before the election in an attempt to put him over the top.
All that unraveled on Tuesday night. While Jones is unlikely to be seated before the Senate votes on a massive tax-cut plan, the finger-pointing that began among Republicans regarding his election points to an underlying chasm in the party that may impair its ability going forward to fulfill the president's agenda.
Trump, who once said he could shoot someone on Fifth Avenue and still win votes, found his limit with Moore — even in a state he won by 28 percentage points just one year ago. Combined with recent Republican losses in statewide elections in Virginia and New Jersey, Moore's defeat blows a hole in Trump's aura of political invincibility that will embolden Democrats as they prepare for the 2018 congressional elections.
The result was also a loss for McConnell and congressional Republicans because it trims their Senate advantage to 51-49 as they enter some tough negotiations on spending with Democrats next year. But it also may bring some measure of relief to GOP lawmakers running for re-election who feared the sexual misconduct claims against Moore would taint the party for years to come.
The outcome isn't likely to quell the fight with Bannon's insurgency.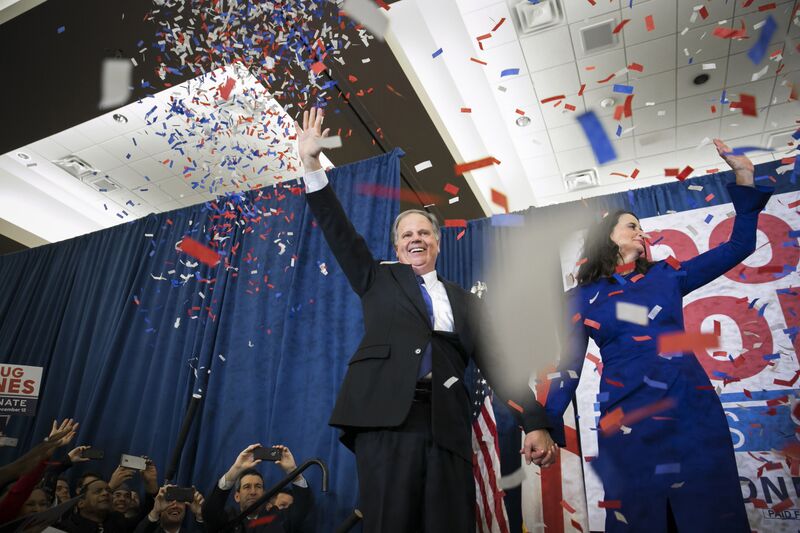 Minutes after the race was called, Andy Surabian, a Bannon ally who is senior adviser to the pro-Trump Great American Alliance, laid the blame at the feet of the Senate's top leader.
"Mitch McConnell and the Republican establishment got their wish: they successfully delivered Alabama to a liberal Democrat," Surabian said.
On Wednesday, Representative Pete King, a Republican from New York, said the election result underscores the failure of Bannon's strategy. "After Alabama disaster GOP must do right thing and DUMP Steve Bannon," he tweeted. "His act is tired, inane and morally vacuous. If we are to Make America Great Again for all Americans, Bannon must go! And go NOW!!"
Republican Carlos Curbelo of Florida taunted Bannon for backing "disgusting Roy Moore."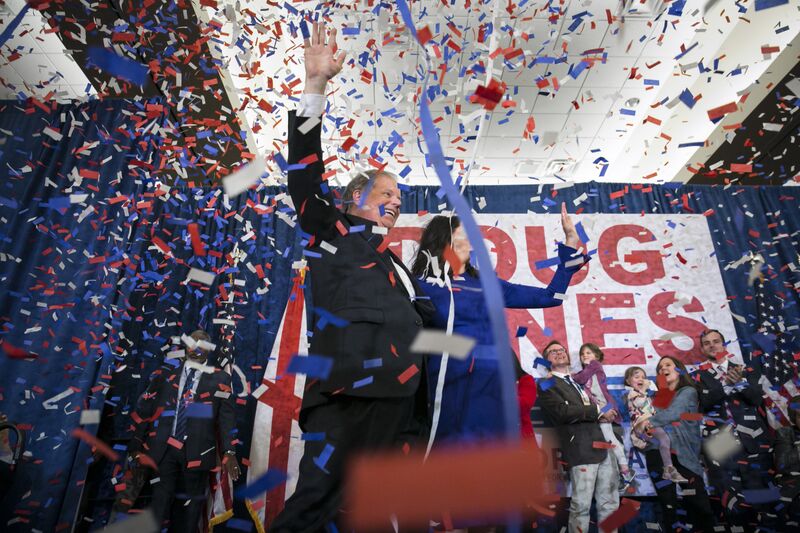 "Congratulations to the Bannon wing of the @GOP for gifting a seat to @SenateDems in one of the reddest states," Curbelo wrote on Twitter. "You have no future in our country's politics."
It was Trump who sounded a gracious note at the end of the night, congratulating Jones on Twitter "on a hard fought victory" and saying Republicans will have another shot at the seat in a short time — Jones will face re-election in 2020.
On Wednesday morning, Trump changed his tune and said he knew all along that Moore couldn't win because "the deck was stacked." "The reason I originally endorsed Luther Strange (and his numbers went up mightily), is that I said Roy Moore will not be able to win the General Election," Trump said on Twitter Wednesday morning. "I was right! Roy worked hard but the deck was stacked against him!"
Jones, a former federal prosecutor, prevailed in a solidly Republican state by running a low-key local campaign while Moore was consumed by a national furor following allegations he had molested teenage girls while in his thirties.
With Moore out of the picture, Republicans may have dodged a bullet. They now won't have to answer uncomfortable questions about why they tolerate a colleague accused of initiating a sexual encounter with a 14-year-old girl and assaulting a 16-year-old. McConnell had promised an ethics investigation of Moore if he won. That might have led to a contentious vote on expulsion, which in turn would have kept alive uncomfortable questions about Trump's own conduct. More than a dozen women have accused the president of sexual harassment or other misconduct over the years.
McConnell's allies were so worried about Moore that they spent millions trying to defeat him in the primary. Now the majority leader can point to Moore's defeat as another in a string of disastrous candidates pushed by the party's right wing that have cost the GOP Senate seats in Delaware, Indiana and Missouri.
"Any illusion that Steve Bannon's brand of politics could be successful vanished when a state like Alabama became competitive," said Josh Holmes, former campaign manager and chief of staff for McConnell. "You'd have to be absolutely blind and willfully ignorant to not realize this has been a national embarrassment."
Even without the sexual misconduct claims, Moore was a polarizing figure. He was twice ousted from the Alabama Supreme Court for refusing to follow federal court orders, argued in 2006 against allowing Representative Keith Ellison of Minnesota to serve because he is Muslim, and backed impeaching Supreme Court justices who voted to legalize same-sex marriage.
Bannon has pledged to run insurgents against every GOP incumbent except Ted Cruz of Texas. Now he'll have a much harder time carrying that strategy into November's congressional elections.
Dealing with Moore would have been a daily challenge for a Republican Party already struggling to unite behind its agenda. Moore said he was running so God could save the country, and he vilified McConnell and other leaders as establishment sellouts.
He favored bans on homosexual conduct and gays serving in the military. He had said he believed former President Barack Obama wasn't born in the U.S., and recently was quoted as saying at a rally that the U.S. was great before the Civil War "even though we had slavery" because, he said, families stuck together and the country had a direction.
$100 Check
Some Republican senators engaged in public debates over just how much to oppose Moore. Senator Jeff Flake tweeted a photo of a $100 check he sent to Jones, while Nebraska's Ben Sasse tweeted that both Flake, in backing Jones, and the Republican National Committee, which renewed its financial support for Moore, had gotten it wrong. Strikingly, Republican Richard Shelby, Alabama's senior senator, said he didn't vote for Moore and instead wrote in the name of a "distinguished Republican."
The outcome adds urgency to Republican efforts to send a massive tax-cut bill to Trump's desk before Jones can be seated — by Jan. 3 at the latest — and it greatly complicates Trump's plan to attempt a broader repeal of the Affordable Care Act next year.
The one-seat gain gives Democrats a slightly better shot in 2018 at winning the Senate majority, which they could use to control the agenda, investigate the president and block nominees, from the Supreme Court on down.
On Wednesday, Democratic Senator Chris Van Hollen, of Maryland, told MSNBC that McConnell should hold the tax bill until Jones is sworn in so that Alabamans can have their voices heard. Van Hollen said that, while that was unlikely, he sees a national trend in which voters are signaling that "they don't like Trumpism and they want to go in a different direction."
A Democratic majority is still a long shot. The election map strongly favors the GOP, with 10 Democrats up for re-election in states won by Trump and just one Republican incumbent — Dean Heller of Nevada — running in a state won by Democrat Hillary Clinton.
To take the majority, Democrats would likely need to re-elect their incumbents, defeat Heller and pick up an open seat in Arizona or Tennessee — or, in perhaps the dream Democratic scenario, topple Cruz in Texas.
Read more: http://www.bloomberg.com/