National ombudsman criticises ruling at all military installations as country is constitutionally a secular state
A constitutional row has broken out after Spains ministry of defence ordered all military installations to fly the flag at half mast over Easter to commemorate the death of Jesus Christ.
It is the second year running that the defence ministry has issued an order to the effect that from 14.00 on Holy Thursday until 00.01 on Resurrection Sunday the national flag must be flown at half mast at all military units, bases, centres and barracks, as well as the ministry of defence and its regional departments.
A defence ministry spokesman said that flying the flag at half mast for religious reasons was in keeping with tradition and was part of the secular tradition of the armed forces.
But Francisco Fernndez Marugn, the national ombudsman, criticised the move on the grounds that Spain is constitutionally a secular state. Article 16.3 of the 1978 Spanish constitution states: No religion shall have a state character. The public authorities shall take into account the religious beliefs of Spanish society and shall consequently maintain appropriate cooperation relations with the Catholic church and other confessions.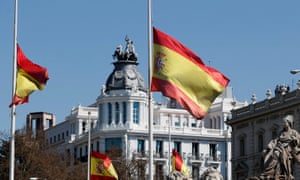 Read more: http://www.theguardian.com/us