In June, a California groundskeeper will make history by taking company to trial on claims it suppressed harm of Roundup
At the age of 46, DeWayne Johnson is not ready to die. But with cancer spread through most of his body, doctors say he probably has just months to live. Now Johnson, a husband and father of three in California, hopes to survive long enough to make Monsanto take the blame for his fate.

On 18 June, Johnson will become the first person to take the global seed and chemical company to trial on allegations that it has spent decades hiding the cancer-causing dangers of its popular Roundup herbicide products and his case has just received a major boost.
Last week Judge Curtis Karnow issued an order clearing the way for jurors to consider not just scientific evidence related to what caused Johnsons cancer, but allegations that Monsanto suppressed evidence of the risks of its weed killing products. Karnow ruled that the trial will proceed and a jury would be allowed to consider possible punitive damages.
The internal correspondence noted by Johnson could support a jury finding that Monsanto has long been aware of the risk that its glyphosate-based herbicides are carcinogenic but has continuously sought to influence the scientific literature to prevent its internal concerns from reaching the public sphere and to bolster its defenses in products liability actions, Karnow wrote. Thus there are triable issues of material fact.
Johnsons case, filed in San Francisco county superior court in California, is at the forefront of a legal fight against Monsanto. Some 4,000 plaintiffs have sued Monsanto alleging exposure to Roundup caused them, or their loved ones, to develop non-Hodgkin lymphoma (NHL). Another case is scheduled for trial in October, in Monsantos home town of St Louis, Missouri.
The lawsuits challenge Monsantos position that its herbicides are proven safe and assert that the company has known about the dangers and hidden them from regulators and the public. The litigants cite an assortment of research studies indicating that the active ingredient in Monsantos herbicides, a chemical called glyphosate, can lead to NHL and other ailments. They also cite research showing glyphosate formulations in its commercial-end products are more toxic than glyphosate alone. The International Agency for Research on Cancer (IARC) classified glyphosate as a probable human carcinogen in 2015.
Monsanto championed falsified data and attacked legitimate studies that revealed dangers of its herbicides, and led a prolonged campaign of misinformation to convince government agencies, farmers and consumers that Roundup was safe, according to Johnsons lawsuit.
We look forward to exposing how Monsanto hid the risk of cancer and polluted the science, said Michael Miller, Johnsons attorney. Monsanto does not want the truth about Roundup and cancer to become public.
Monsanto has fiercely denied the allegations, saying its products are not the cause of cancer. The IARC finding was wrong, according to Monsanto, as are studies finding glyphosate and glyphosate-based herbicides like Roundup to be potentially carcinogenic. Monsanto points to findings by the Environmental Protection Agency (EPA) and other regulatory authorities as backing its defense.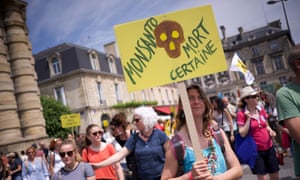 Read more: http://www.theguardian.com/us