Marin Cilic made an impressive comeback to beat Novak Djokovic 5-7, 7-6 (4), 6-3, winning the Fever-Tree Championship and his second Queens Club title
There is something gnawing away at Novak Djokovic a week before Wimbledon and, if it was just losing against Marin Cilic in the final of the FeverTree Championship, he might return from a few days at home in Monte Carlo refreshed and ready to go again.
It was tough to tell, though, as his voice dipped in the immediate aftermath of Cilics 5-7, 7-6 (4), 6-3 win in just under three hours on a warm Sunday afternoon at the Queens Club.
The Serb left Roland Garros thoroughly drained after losing in the quarterfinals, unsure if he would even play at Wimbledon, and all week here he has fended off questions about his downbeat mood. I wouldnt say Im a contender for a trophy or anything like that, Djokovic said. I have to keep my expectation very low, considering my results in the last 12 months. It was not all gloom, of course, and he bridled when asked if winning a grand slam after a two-year drought would count among his best achievements: Its what Im playing for.
Cilic, whose determination has not always matched his considerable talent, heads for Wimbledon with spirits high and excellent prospects of reaching the final there again after the huge disappointment of surrendering to foot blisters and the brilliance of Roger Federer in the 2017 final.
Beating Djokovic, the former world No 1, for only the second time in 16 matches put the broadest of smiles on the face of Cilic, who saved a match point in the second set and held his nerve admirably in the third.
Djokovic said courtside: That was a great comeback. He deserved to win. Its a tough loss but I have to see it from a positive side. I havent been in any finals for a year, so this felt great. It came at the right time ahead of Wimbledon, the most prestigious tournament in the world, and Ive had the fortune to win it three times.
The winners upbeat demeanour seemed more convincing. Novak had such a great week, and its really good to see him coming back so well, healthwise, playing at the top level, Cilic said.
Last year I had a match point and couldnt convert it, this year it was Novak. I definitely am relieved. Ive waited six years to win again.
That was by default in 2012, when David Nalbandian had a brain fade, accidentally injuring a line judge when he kicked the advertising box around his legs. There was no such angst here, but plenty of tension.
There was a time when Djokovic would rip open his shirt, eyes blazing, and beat his chest as if he were about to explode. Then, as he sought peace of mind away from the court, his serving elbow began to ache to the point of distraction, he withdrew from the Tour in despair. At 31, he does not appear to have shaken off all the demons.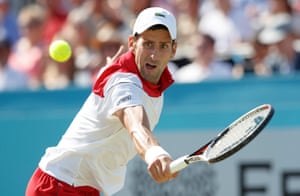 Read more: http://www.theguardian.com/us