Pyongyang appears to be evading curbs with help of lax approach by China and Russia
Without the spectre of imminent nuclear war, there is not much appetite for strict enforcement of international sanctions aimed at forcing North Korea to abandon its nuclear weapons and missile programmes.
There is a mounting body of evidence that Pyongyang is evading the restrictions with a combination of subterfuge and lax enforcement by China and Russia, its closest allies, rendering the US plan of maximum pressure increasingly ineffective.
In two high-profile and historic meetings this year, the North Korean leader, Kim Jong-un, agreed to complete denuclearisation of the Korean peninsula, but has done little to curb weapons development. The US has demanded Kim give up his nukes before any sanctions are lifted.
North Korea has used a variety of means to sidestep the restrictions. Ship-to-ship transfers of oil and coal in the dead of night have been repeatedly documented, North Korean labourers work openly in China and Russia, and Pyongyang continues to work with Syrias military.
Kim Jong-un is playing a very logical game. Hes getting weaker sanctions enforcement from China and Russia while engaging the United States on his terms, said Mintaro Oba, a former US diplomat who worked on North Korea policy.
If its possible to weaken the resolve of China and other members of the international community to impose and enforce sanctions, thats certainly in North Koreas interest. But North Korea isnt so committed to that goal that it would give up its nuclear programme.
Kim has made three trips to China since March the initial visit was the first time he had left North Korea since coming to power in 2011. China is by far the Norths closest ally and the country accounts for more than 90% of North Koreas total trade volume. Beijing has consistently backed Pyongyang in an effort to ensure the regimes stability, hoping it can act as a buffer to the US ally South Korea.
More than 10,000 North Korean workers have registered to work in Russia since September, with at least 700 obtaining work permits this year, in potential violation of UN sanctions, the Wall Street Journal reported last week. US officials estimate North Koreans working in Russia send as much as $300m (230m) a year to Pyongyang, a critical source of foreign currency.
In a sign of growing frustration, Mike Pompeo, the US secretary of state, publicly warned Russia and China last week against weakening sanctions enforcement during a trip to Singapore.
His plea came as a panel of UN experts tasked with monitoring sanctions implementations said Pyongyang had continued its nuclear and missiles programmes, and documented a host of violations including attempts to sell weapons to armed groups in Yemen and exporting more than $100m in textiles over a six-month period.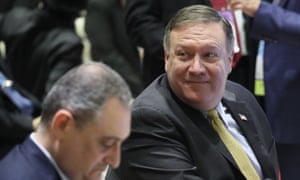 Read more: http://www.theguardian.com/us