In todays politics news: voting under way in three states, a bitter fight in New York, and a tough race for a Bill Clinton ally
Good evening, Im Ben Jacobs, and this is the Guardians new-look politics minute. In the run-up to the midterm elections, Ill bring you the latest from Washington and beyond every Monday, Wednesday and Friday evening. If youre not already receiving this rundown by email, sign up.
It begins
Early voting begins today in three states, Minnesota, South Dakota and Virginia. This means every day until 6 November is election day.
Republican pushes mafia innuendo
Incumbent Republican Claudia Tenney is in a tight race in a swing seat in upstate New York and her campaign is adopting a unique tactic. The bomb-throwing rightwinger is implying that her Democratic opponent Anthony Brindisi has wait for it mafia ties.
Wait, what? Tenneys campaign has put out a memo to staffers warning that Brindisis family is thuggish and prone to violence and attacks his father who was once a lawyer for figures with ties to organized crime.
Democrats floundering in seat Clinton won by 20
The South Florida congressional seat being vacated by Republican Ileana Ros-Lehtinen was supposed to be a gimme for Democrats. The metro Miami seat is majority Hispanic and Hillary Clinton won 58% of the vote there. But recent polling shows a close race.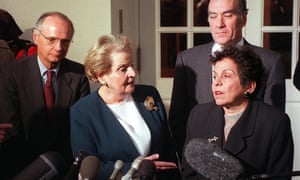 Read more: http://www.theguardian.com/us