Unlikely alliance of free-market libertarians and union-backed activists argue $100m-plus in subsidies handed to retailer are a bad investment for the city
Nashville has a way of bringing people together usually through music. This time its through a shared antipathy for the $100m-plus in subsidies this booming city has just handed to Amazon, the worlds most valuable retailer.
The ink has barely dried on a deal that the state of Tennessee and the city awarded Amazon and there are now only a few small hurdles remaining before Amazon starts moving in to a downtown office complex planned for Nashville Yards.
But an unusual alliance of free-market libertarians and union-backed activists is determined to hold the politicians and executives responsible for the deal to account. Their hope is that it will serve as a warning to others looking to hand public money to profitable companies in return for the promise of new jobs.
This is one area where libertarians and socialists can agree on something: this is a bad idea, said John Mozena, president of the Center for Economic Accountability, a free market advocacy group and a self described libertarian.
Local activist Odessa Kelly agrees. A parks and recreations employee and member of the union-backed Stand Up Nashville coalition she says the deal is symptomatic of an approach that is failing the city while handing millions to a company that doesnt need it.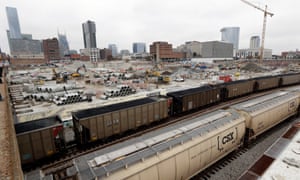 Read more: http://www.theguardian.com/us