Drag the Red searches for human remains in the Red River as a report recently concluded Indigenous women face a genocide
As a government inquiry compiled its landmark report on the epidemic of violence against Canadas Indigenous women, Bernadette Smith and a group of volunteers continued what they have done for years scouring Manitobas Red River for human remains.
Since 2014, Smith and her team at the Drag the Red initiative have used a small motor boat to drag the murky waters in the faint hope providing closure to grieving families.
This week the commissions 1,200-page final report concluded that the murder and disappearance of Indigenous women and girls in Canada constituted a race-based genocide and laid out more than 200 policy recommendations for future action.
But Smith and her team have no plans to end their work: tragedy continues to befall Indigenous families across the country. More than 130 Indigenous women and girls have gone missing or been killed since the inquiry began its work in 2016, according to a CBC News database.
Yes, the inquiry is important work. And yes, its important for families to have their voices heard, said Smith. But at the same time, its important to start addressing this now and to stop the violence from happening.
The commissions report was officially released on Monday at an emotional ceremony in Gatineau, Quebec, which brought together Indigenous leaders, families of murdered women and the survivors of abuse.
Its pages chronicled generations of trauma against Indigenous peoples, including the disproportionate gender-based violence experienced by women and girls throughout the country.
The gravity of discriminatory policies against Indigenous peoples meant that calling it genocide was an inescapable conclusion, said the chief commissioner, Marion Buller.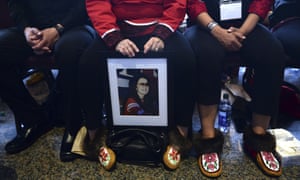 Read more: http://www.theguardian.com/us