Ajaxs Dutch academy product Donny van de Beek made all the difference early on when Tottenham hardly knew what was coming at them in the Champions League semi-final first leg
With 15 minutes gone at the Tottenham Hotspur Stadium there was a moment where the air seemed to disappear out of the ground, sucked up past the roofline into that gentle powder blue.
Ajax had just produced a startlingly smooth piece of football, midfield and attack functioning like limbs joined to the same shared brain. Hakim Ziyech provided the ignition with a lovely flighted pass out to David Neres on the left. Another slick cross-field pass from Lasse Schne took it back to Ziyech.
From there the ball was laid into the feet of Donny van de Beek, who was irresistible in those opening 20 minutes, a player running undiscovered patterns, finding strange angles, spaces that shouldnt be there.
Van de Beek let the ball run across his body, leaving Danny Rose scrabbling the wrong side, and opening up a route to goal. Spurs had been filleted in five swift strokes of the blade.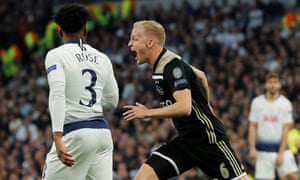 Read more: http://www.theguardian.com/us