The unlikely buddy drama, starring Jon Voight and Dustin Hoffman, remains a compelling study of poverty and loneliness
Midnight Cowboy was the first and only X-rated film to win the Academy Award for best picture, a fact thats useful to know on trivia night, but otherwise needs to be appended by about five or six asterisks. The Motion Picture Association of America (MPAA) originally rated the film an R, changed it to an X for its depiction of prostitution and homosexuality, and then changed it back to an R only two years later, a tacit acknowledgement that the board had gotten it right the first time. Seeing the film today, 50 years later, the ratings controversy seems all the more curious, given the relative timidity of its nude scenes and a gay hustle at a Times Square theater thats all uncomfortable glances and implication.
And yet both the X rating and the best picture win tell us something about Midnight Cowboy as a watershed moment in the culture, marking a transitional period where Hollywood was responding to radical social change, but not quite keeping up the pace. It would be tempting, for example, to draw a connection between the films release and the Stonewall riots a month later, but it would be revisionist history to think about Midnight Cowboy as the gay rights movement gone mainstream. To the extent that Joe Buck, the films faux-cowboy hustler, opens himself up to trade with other men, its tied to desperation and shame, not the pursuit of latent desire. If he had wanted to have sex with men, the film might have kept its X.
At the same time, Midnight Cowboyis an extraordinary document of its era, as if it were the bridge to New Hollywood accessible and sentimental in many respects, but constantly pushing the audience to accept new techniques and look to the margins of American life. Director John Schlesinger, a gay British film-maker, would push further still two years later with Sunday Bloody Sunday, a thornier and more explicit drama about sexual fluidity, but he had a keen sense of how adventurous viewers were willing to get and how far he could extend their sympathies. He made a film that could both win an Oscar and see the future that was coming around the corner.
It starts with Harry Nilssons rendition of Everybodys Talkin, which wasnt eligible to win best original song in 1969 and might not have, with the similar G-dropping hit Raindrops Keep Fallin on My Head arriving a few months later in Butch Cassidy and the Sundance Kid but reinforces the films themes early and often. The first lines (Everybodys talkin at me / I cant hear a word theyre sayin / Only the echoes of my mind) are as concise a description of Joe Buck as possible: his stubbornness and naivety as he journeys from small-town Texas to New York City, and the echoes of past traumas that reverberate in his head. Jon Voights beautiful performance as Joe has a deer-in-the-headlights quality, but also a boundless optimism that contrasts touchingly with the hardships that confront him at every turn. He fights against a past that haunts him and fights some more against a city thats indifferent to his cowboy kitsch and absolutely pitiless in spotting a rube in its midst.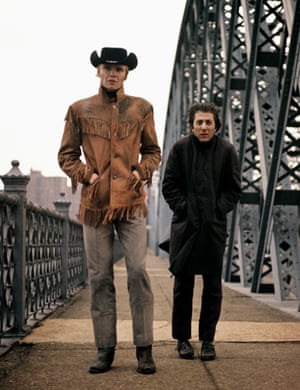 Read more: http://www.theguardian.com/us