Maghaberry in County Antrim contains several republican paramilitaries
A Northern Irish prison that holds some of the most dangerous republican paramilitary prisoners has banned a new academic book about dissident Irish republicans.
Maghaberry, outside Lisburn in County Antrim, has prevented inmates gaining access to Unfinished Business: the Politics of Dissident Irish Republicanism, written by Marisa McGlinchey, a research fellow in political science at the Centre for Trust, Peace and Social Relations at Coventry University.
The book, published in February by Manchester University Press, is a study of radical republicans who accuse Sinn Fin and the Provisional IRA of accepting partition and selling out the movement. It is based on interviews with about 90 republicans, including inmates at Maghaberry.
Darragh Mackin, a Belfast-based solicitor who represents republican inmates, said such a ban was unusual but not unprecedented. We have asked a number of questions seeking clarity but havent yet had a response. We dont see a good reason for it being prohibited, he said.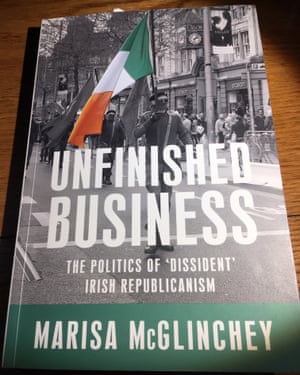 Read more: http://www.theguardian.com/us