Concerns overcrowding at prisons for Isis suspects could fuel radicalisation
Photos have surfaced of overcrowded and degrading conditions in Iraqi detention centres used to hold thousands of men, women and children with suspected links to Islamic State.
Human Rights Watch (HRW) said on Thursday it had acquired rare photographic evidence of conditions falling short of the most basic international standards at three facilities in Nineveh province. HRW warned the situation could lead to the radicalisation of vulnerable prisoners.
In one photograph, taken at Tal Kayf prison, dozens of women and small children are so tightly packed into a cell that the floor is not visible and clothes and belongings are hung on the wall. In another, of a juvenile cell at Tal Kayf, there is so little room a sea of teenage boys are forced to sleep in the foetal position.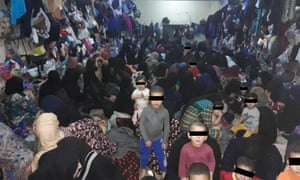 Read more: http://www.theguardian.com/us