Leticia Stegall owned a business, paid taxes and had a teenage daughter who was a US citizen, but Ice deported her anyway
Leticia Stegall still runs the Blue Line bar. Drawing up the rotas. Ordering barrels of beer. Encouraging the staff to put the TVs on, the umbrellas out and clear the tables quicker.
But now she does it from exile, peering at her laptop and a video stream from cameras dotted between the ice hockey memorabilia lining the bar close to downtown Kansas City.
I still have the income from the bar. Im not trying to live on 200 pesos ($10) a day. But its still a nightmare, Stegall said by video call from the Mexican port city of Veracruz, where she currently lives after being deported and leaving her popular city bar and her family behind in America.
Stegall had long feared the moment that arrived one morning in March 2018 when her car was surrounded by agents from Immigration and Customs Enforcement (Ice) as she pulled out of her driveway. She told herself they wouldnt deport a woman with a teenage daughter who is a US citizen, and who jointly owned a business with her American husband that created jobs and paid hefty taxes to the US Treasury.
Stegall, 42, was still making the same arguments as she was pushed across a bridge back to Mexico four days later.
More than a year on, shes fighting to get back to the US and grappling with anger at what she sees as the futility of ripping apart a family to make a political point.
Theyre not deporting the cartels, the criminals, because they cant find them. Theyre deporting the wrong people because were in the system. They know where to find us, the easy targets, she said.
Sitting at a table at the Blue Line, her daughter, Jennifer, and husband, Steve, accept that Letty, as shes known in the family, had been in the country illegally for nearly two decades after paying a smuggler to bring her across the border.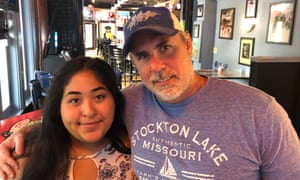 Read more: http://www.theguardian.com/us