Bernie Sanders and Bill de Blasio among those to pay tribute to Eric Garners daughter, who was in hospital for a week after a heart attack
The Black Lives Matter activist Erica Garner has died, after a week in hospital following a heart attack. She was 27. Garner was the daughter of Eric Garner, a man who died in a police chokehold in New York in 2014.
Among tributes, Senator Bernie Sanders said that although Garner didnt ask to be an activist, she responded to the personal tragedy of seeing her father die by becoming a leading proponent for criminal justice reform and for an end to police brutality.
AnnouncingGarners death in New York on Saturday morning, the Rev Al Sharpton said she was a warrior to the end. He said: Her heart was broken when she didnt get justice the [heart] attack just dealt with the pieces that were left.
Four months ago, Garner gave birth to a son who was named for her father. She also had an eight-year-old daughter. In a recent interview with the webshow Like it or Not, she talked about the difficulties of life as a parent and an activist. Im struggling right now from the stress of everything, she said, because the system, it beats you down.
Her mother, Esaw Snipes, told the New York Times earlier this week her daughter learned during her recent pregnancy that she had heart problems. Snipes said Garner had a heart attack after an asthma episode and was placed in a medically induced coma.
On Saturday, Snipes told the Times: The only thing I can say is that she was a warrior. She fought the good fight. This is just the first fight in 27 years she lost.
A message on Garners official Twitter account, which was run by family and friends after she became ill, said: She was human: mother, daughter, sister, aunt. Her heart was bigger than the world. It really really was. She cared when most people wouldnt have. She was good. She only pursued right, no matter what. No one gave her justice.
Eric Garner, who was 43, died in Staten Island in July 2014 after a white police officer subdued him with an illegal chokehold, during an arrest over the alleged sale of untaxed loose cigarettes. He also suffered from asthma. His last words, I cant breathe, became a slogan for activists protesting police brutality against African Americans.
The officer, Daniel Pantaleo, was not charged and remains employed by the New York police department. The decision not to press charges led to major protests in New York City.
Erica Garner became an activist and writer, including for the Guardian. In July 2016, she met privately with Barack Obama, after protesting during a town hall event on race. She also campaigned on behalf of Sanders in his bid for the Democratic presidential nomination.
In his statement, Sanders said: Erica Garner was an exceptional young woman. She was a loving daughter, sister, mother, friend.
He added: I had the honor of getting to know Erica and I was inspired by the commitment she made working towards a more just world for her children and future generations. She was a fighter for justice and will not be forgotten.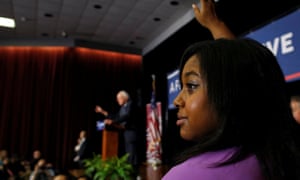 Read more: http://www.theguardian.com/us