New Zealand leader in Kahu huruhuru praised as proud moment for female leaders and Mori worldwide
New Zealand prime minister Jacinda Ardern has caused a stir with a striking image of her walking the halls of Buckingham Palace swathed in a traditional Mori cloak during this weeks Commonwealth heads of government meeting.
The prime minister wore a Kahu huruhuru; a Mori cloak adorned with feathers and bestowed on chiefs and dignitaries to convey prestige, respect and power, said Mark Sykes, guardian of Mori special collections at Te Papa, the national museum of New Zealand.
Sykes said Arderns choice was a proud moment for Mori around the world. Cloaks are worn for warmth, protection and to symbolise your status and mana [power] , said Sykes. I think it shows how she is portraying herself as a leader of Mori, of all of New Zealand, of everyone. It made me feel proud. She wore it well. She wore it so well.
On social media in New Zealand the striking image went viral, with many people commenting that the picture captured the inversion of traditional gender roles; a female world leader wearing a powerful cloak while pregnant and representing her country.
There are more than 10 varieties of Mori cloak, broadly referred to as Korowai, and the Kahu huruhuru become prestigious from the mid-1800s, with Kiwi feather cloaks the most valuable and sought after. Two of them were given to the Queen and Prince Philip on their 1954 tour of New Zealand, and were later worn by other members of the royal family when they visited the country.
According to Te Papa, in the Mori world birds were given the task of carrying spiritual messages between the gods and people, and their feathers were prized and sacred.
Arderns Kahu huruhuru has been loaned to her from the London Mori club Ngti Rnana.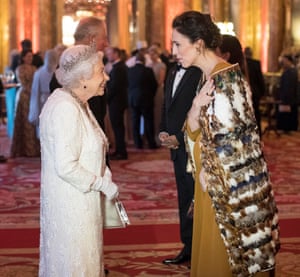 Read more: http://www.theguardian.com/us