A suspect has been arrested after the presidents star, the target of previous attacks, was demolished with a pickaxe
Donald Trumps star on the Walk of Fame in Hollywood has been destroyed.
According to the Los Angeles Times, the LAPD received a call from the man who allegedly took a pickaxe to the presidents spot on the strip in Los Angeles. Reports claim the suspect arrived with a guitar case before taking out the implement to destroy the star.
While he had fled the scene by the time officers arrived, he has since turned himself in and remains in police custody. A source claimed he would probably be charged with felony vandalism.
While there is private security in the area, they struggled to intervene as they do not possess the same powers as law enforcement officers.
Its not the first time the star has been the target of an attack, with multiple incidents of vandalism. In 2016, James Lambert Otis, 53, was recorded using a jackhammer and a pickaxe to remove Trumps name. He said he was motivated by the infamous Access Hollywood video in which the future president used lewd terminology to describe infidelity.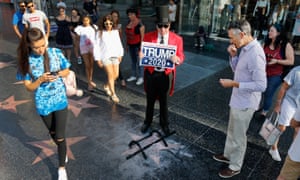 Read more: http://www.theguardian.com/us