After sightings in London and Paris, whale is now making waves in Spanish capital
Call me Ishmael. Or, better still, Spanish whale.
Madrid awoke on Friday morning to find that a 15-metre sperm whale had managed to swim up the Manzanares River before coming to an abrupt halt by the arches of the citys oldest bridge.
The intrepid mammal turned out to be the hyper-real model previously sighted as far afield as London, Paris and Antwerp that a Belgian art collective is using to shock people into thinking about the environment.
The installation, by the Segovia Bridge, comes complete with a team of actors dressed as rescuers, who hose down the beached creature.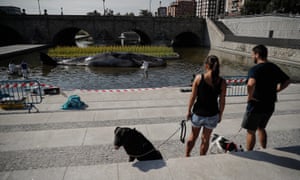 Read more: http://www.theguardian.com/us