Fifteen-person team linked to disappearance of dissident, Turkish media report
Saudi special forces officers, intelligence officials, national guards and a forensics expert were allegedly among a 15-person team tied to the disappearance in Istanbul of the high-profile dissident Jamal Khashoggi, it has been reported by Turkish pro-government newspapers.
The details of the alleged hit squad were listed on flight manifests leaked to Turkish media. Social media profiles of some of the alleged suspects link them to elite sections of the Saudi security apparatus.
Meanwhile, investigators are turning their focus towards the underground garage of the Saudi consul generals home, where the cars thought to have carried Khashoggi are believed to have to have been driven immediately after they left the nearby consulate.
Investigators also disclosed on Wednesday that they were focusing on an Apple watch that Khashoggi was wearing that was connected to an iPhone he had left with his fiancee outside the consulate. We have determined that it was on him when he walked into the consulate, a security official told Reuters. Investigators are seeking to determine what information the watch had transmitted.
Donald Trump said that the US was demanding answers from the Saudi government and working closely with Turkey to find out what happened to the missing dissident.
Its a very serious situation for us and for this White House, he told reporters on Wednesday. I want to see what happens and were working very closely with Turkey and I think well get to the bottom of it.
The US president also said that he had invited Khashoggis fiancee, Hatice Cengiz, to the White House.
Mike Pompeo, the US secretary of state, John Bolton, the national security adviser, and Trumps son-in-law, Jared Kushner, all spoke to the Saudi Arabian crown prince, Mohammed Bin Salman, to request further information about the missing journalist, according to the White House spokeswoman Sarah Sanders.
Twenty-two US senators signed a letter to Trump on Wednesday triggering an investigation and determination of whether human rights sanctions should be imposed over Khashoggis disappearance.
In the letter, the senators said they had triggered a provision of the Global Magnitsky Human Rights Accountability Act requiring the president to determine whether a foreign person is responsible for a gross human rights violation.
Turkish officials remain convinced that Khashoggi was killed by the alleged hit squad inside the consulate building a view partly formed by security footage, much of which has not been released. But, unlike the roads outside the diplomatic mission, they have no camera coverage of the consul generals residence or the garage beneath it, and say the cars and their occupants remained out of sight for several hours before continuing to Atatrk airport.
Details of the Saudi citizens who travelled to Istanbul were released amid a claim that they had brought with them a bone saw to dismember Khashoggi. It was like Pulp Fiction, a Turkish official told the New York Times. Suggestions that Khashoggi was killed and his body then mutilated have gained wide circulation in the week since he vanished, and Turkish officials continue to insist he met a brutal fate when he stepped through the doors of the diplomatic mission.
The alleged involvement of a forensics expert adds weight to the suspicions. The passenger manifest, obtained by the pro-government Daily Sabah newspaper, also lists a senior intelligence officer and two Saudi air force officers.
The Saudi team is said to have arrived at Atatrk airport on Tuesday last week on two planes, one of which landed in the pre-dawn hours and the second in the early afternoon. Airport security officials now say they checked all bags that the Saudi teams took with them to the airport and say there were nothing suspicious in any of the items loaded on to the jets for their return journeys to Riyadh.
Officials also said they had become aware that Khashoggi may have been kidnapped before the second plane had departed, and monitored seven Saudis in a waiting room as they checked their luggage for a second time. When nothing unusual was discovered, the plane was allowed to leave.
Turkish media have broadcast CCTV footage that shows the alleged Saudi team arriving and leaving Istanbul airport, as well as vehicles approaching and leaving the consulate.
On Wednesday evening, the Washington Post cited US intelligence intercepts to report that Saudi Arabias crown prince had ordered an operation targeting Khashoggi. The paper reported unnamed US officials saying Saudis had been heard discussing a plan to lure the journalist from Virginia and detain him.
A state department spokesman earlier insisted the US had no forewarning on any threat.
The Turkish president, Recep Tayyip Erdoan, has promised a transparent investigation into Khashoggis fate. However, many officials who provided information earlier in the inquiry are now refusing to speak, citing political sensitivities.
Turkey had in recent days attempted to offer Riyadh a way to de-escalate a crisis that continues to gather momentum outside the region by suggesting that a deep state and not senior Saudi officials were responsible for Khashoggis disappearance. However, there has been little interest from the kingdom, leading some senior Turkish officials to conclude that Riyadh does not fear the consequences.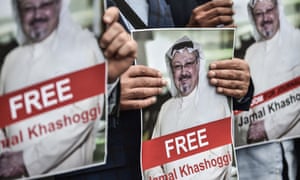 Read more: http://www.theguardian.com/us